Rates for monthly & seasonal renting summer 2003
1 month - july 1.170/August 1.467/September 1027(euro)
2 months - July-August 2200/August-September 2054(euro)
3 months(summer season)July-September 2.640euro. *Daily cleaning service is included.
AQUARIUS
BAR - SNACK - RESTAURANT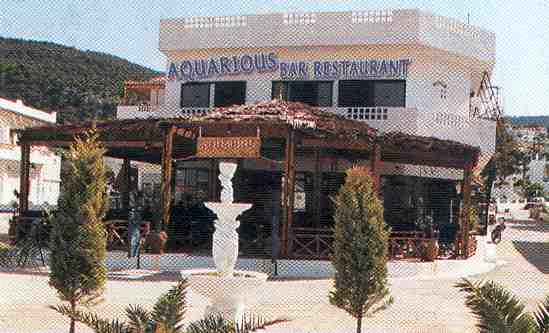 At a distance of 150m from "AQUARIUS VILLAGE" on the sandy beach of Skala,you can find the "AQUARIUS BAR-RESTAURANT"
Start your day with the best breakfast in the island.During the day you may enjoy a large variety of snacks and delightfull flavors of ice-cream refreshments and drinks for your pleasure,while listening to our lovely music choices or watching your favourite TV show special arranged with satellite dish.
Follow the lastefull evening.There are many tasty surprises of Greek cousine or cocktails that you can enjoy listening to Greek and international music.